Steel structure frame house/movable house/poultry house/warehouse:

Our Service of Container House:
We offer a full service in a bespoke service in which we work with the clients. Our own architects bring you your own tailored container or modify our designs according to your requirement.
We can manufacture those container houses/homes in the UK, France, Spain and Canada. We can also ship and transport them worldwide.
Specifications of Container House:
1)Container house has the international standard size 20ft HQ and 40ft HQ.
2)There are 7 types of wall panels for our container house and the inside finish can be steel sheet, aluminum sheet;
3)Roof, flooring and electricity system are all prefabricated before leaving factory.
4)The steel structure help the house resisting heavy winds of 210km/h and 8 grade earthquake.
5)1-3 stories design can provide according to the customer's request.
6)The waterproof system on the roof makes the house a good sealing effect.
LenghtWidthHeight
20'HQ6058mm2438mm2591mm
40'HQ12192mm2438mm2896mm
Techinical Parameter of Container House:
Roof load wind speed antiseismic temperature
0.5KN/sqm (can be adjusted as your request)210km/hmagnitude 8-50° C-+50° C
Optional inclusions for Container House:
1)Heating
2)Bathroom
3)Kitchen
4)Climate control systems
5)High quality furniture
6)Telephone/internet access systems
Applications of Container House:
1)Accommodation
2)Temporary office
3)Warehouse
4)Villa
5)Storage house
6)Shelter
7)Art studio
8)Exercise room
9)Others (according to your requests)
Features of Container House:
Shipping containers are in many ways an ideal building material. They are designed to carry heavy loads and support heavy loads when they are stacked in high columns. They are also designed to resist harsh environments - they are transported globally on ocean going vessels or can be covered in road salt when transported on roads.
1) Modular design: They can be readily modified with a range of creature comforts, and can be connected and stacked to create modular, efficient spaces for a fraction of the cost, labor and resources of more conventional materials.
2) Easy transportation and move: Pre-fabricated modules can also be easily transported by ship, truck or rail, because they already conform to standard shipping sizes.
3) Hurricane-Proof: Either single units or multiple connected units can withstand 210km/h winds; Extremely solid in Tornados or Hurricanes.
4) Earthquake-Proof: It would be the most perfect safety cocoon in an Earthquake. It would be at least 100 times safer and stronger than a conventional housing structure.
What we need:
1. Design load: Wind speed, snow load
2. The container arrangement drawing
3. The inner house arrangement drawing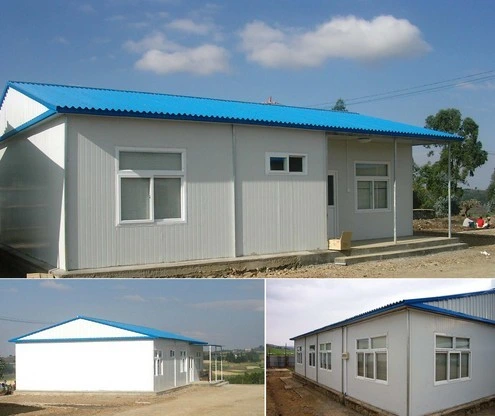 material
a. light steel as steel frame, including C section steel, V section steel, square steel tube

b. Various sandwich panels for wall and roof, the insulation can be EPS, rock wool, fiber glass wool
Window
Aluminum alloy shutter window, plastic-steel window
Door
EPS/rock wool/fiber glass wool sandwich panel door, steel/plastic-steel/aluminum alloy door
Optional items
We can supply you bathroom, kitchen, electricity system, home appliance, furniture and other coponents as per your request
Characteristics

a. Flexible design, doors, windows and interior patitions can be fixed at any position

b. Easy to assemble and disassemble, saving more time and cost

c. Long service life, repetitive to use, normally more than 15 years using life

d. Quick fabrication, fast installation

e. Safe and reliable

f. Different colors for your choice.
Applications
Construction site, temporary office, home, dormitory, labor camp, canteen, workshop, warehouse, etc
Fabrication
Strictly fabricate, every member based on drawings confirmed
Installation
Complete instructions for installation or technical support by assigning our engineer on site
Packing
Reasonable packing ensures the quality and convenience to transport and install